Media apps onboard with the same delivery quality as at home
paxCDN guarantees passenger's fast, uninterrupted and high quality access to their preferred media, while maintaining 4G bandwidth for other purposes
Passengers do not need to install additional apps on their phones. They can enjoy on-demand content (videos or news) just as they experience it outside the train, at home, without stretching their mobile data budget. paxCDN complements the services offered by the usual Wifi internet service provider. The technology can be easily integrated into any existing Passenger Information System
A modern and attractive infotainment offered onboard must be adjusted to the media consumption behavior of passengers.
Passengers have their individual preferences, and this is represented by the media apps installed and used on their smartphones. This means that contents statically stored on portals are rarely used. Instead the performance of the "Internet on board" should be the main focus of onboard entertainment systems.
But the bandwidth available for all passengers on board depends mostly on constraints that cannot be directly influenced, such as the performance of 4G connection or the actual network coverage along the way.
The increasing usage of video streams, when used by a larger number of passengers, can quickly push even the most modern system to its performance limits.
Uninterrupted and high-quality media experience with optimized internet bandwidth use
This is where paxCDN comes in. Similar to CDNs which improve the performance of media delivery on the internet (not visible to the end user), paxCDN ensures that the full functionality of the apps is serviced entirely through the local network. This guarantees an uninterrupted and high-quality media experience, while minimizing the use of internet bandwidth.
In addition, since media distribution is under control of the provider app, no additional licensing for media is required. The media broadcasters remain in control of the media offerings available to passengers through their usual apps.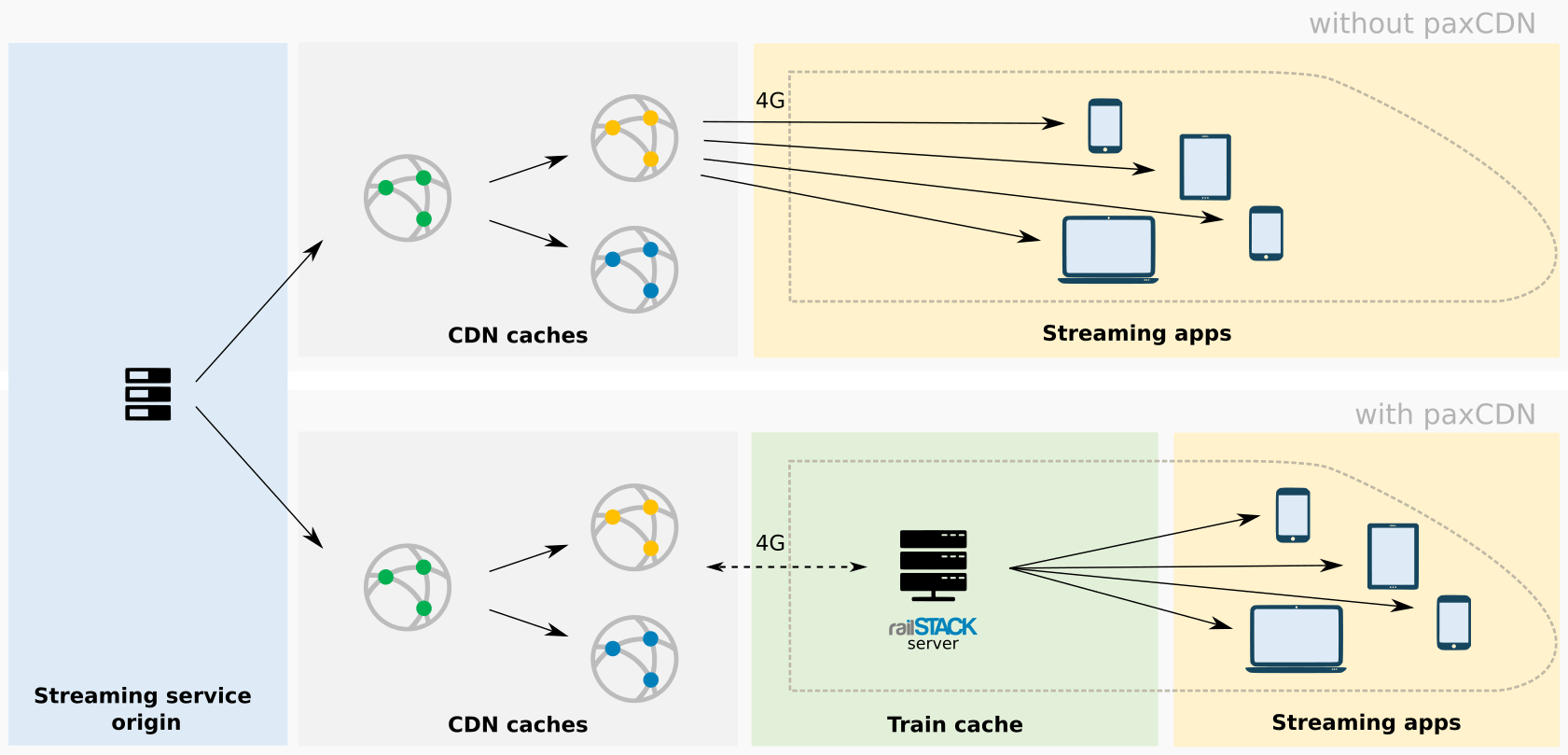 New media content can be added at any time.
Thanks to the railSTACK server from PaxLife, which is installed in the vehicle, paxCDN can host the server component (the cache) of all offers from a media provider in the vehicle. The server on board can be accessed by the devices of all users in the vehicle with the bandwidth of the intranet. This cache server is regularly updated via so-called "data showers" at selected locations along the train route (e.g. via WiFi at the end points).